The most important part – the Restaurant – here you will enjoy a chance to meet some amazing people from all around the world, and make friends for life as we introduce you to the unique communal dining experience. Or if you prefer dining alone, there are also smaller tables available. The below rates include the FJD 25% government taxes.

Adult Daily Meal Plan – NZD$85 pp per day

Child Meal Plan – NZD$65 pp per day
BREAKFAST
Begins from 7.30am until 10am, with a continental breakfast comprising of fresh fruit platters, juices, a selection of cereals, baked goods, home baked fresh breads, assorted condiments, cold meats and savoury selections. We also have chefs at the ready to prepare your order of omelettes, hot cakes, eggs and also yummy Fijian baked goods – all this is included. Here you can laze the morning away with relaxing lounge music, espresso coffee on offer and views to write home about.
LUNCH
A sample of the meals we serve a la carte style are below – along with vegetarian and gluten free options, we make sure that there are yummy choices for everyone
Island homemade beef burger and fries

Fresh walu salad with pawpaw relish

Caesar salad

Traditional mint battered fish and chips

Coriander and chilli Calamari Linguine

Summer Thai chicken Wrap

Falafel Burger
DINNER
You won't get bored when it comes to dinner each evening. With our open plan restaurant, long communal tables, band boys and friendly staff, you will enjoy something different each night, along with the opportunity to meet people from all walks of life.
A la carte Menu's are offered 4 days a week where we invite you to dine anytime from 6:30pm til 8:30pm and enjoy a lovely menu comprising of choices for Entree, Main and also dessert.
Friday night on the island is Meke Night across all resorts. Your chance to experience a traditional Fijian Lovo, where the meat is wrapped in Banana leaves and then cooked upon hot coals. This is accompanied by traditional dishes along with fresh salads etc.
We also offer a lovely tribute to the strong Indian history of Fiji by showcasing the best curries you have ever had. We serve 'on the table' style buffet so as to offer a large assortment of dishes. The team will advise you in advance which night this is on so you can plan your evenings.
Summer BBQ's Buffets are also a favourite for everyone with their large assortment of fresh salads, home baked desserts and of course open grill selections.
Additional Dining Information
Serving only the Freshest Ingredients

The talented team of chefs carefully prepare daily menus utilising only the best and freshest produce Fiji and indeed the island, has to offer. The Daily menus are designed to satisfy different guests from all around the world and also to showcase the best of the local talent, the experienced head chefs and mainly, the resort's desire is to serve only the freshest, most carefully prepared meals is the main priority.
Dietary Needs
(Gluten Free, cealiac, Vegetarian, Vegans, Lacto-vegetarian, Ovo-vegetarian). These are listed upon arrival and carefully noted by the chefs and management – we proudly cater for all dietary needs and produce fantastic gluten Free, Cealiac, Vegetarian and also vegan meals – in fact, we can cater for any needs – as long as we know, the team will wow you with their creativity.
Children's Dining
The Children meals are all served together at a time that suits you – this is normally between 5.30pm and 6.30pm, as we find the little ones get very hungry, and also sleepy after a big day. You will not find processed meals here such as Nuggets and chips, as we prefer to offer our smallest guest's the freshest that we can find, and also the healthiest options, though we do ask that you let us know any special requests – as our team will happily prepare the right meal for you. It's also at this time that you have the choice of allowing the kids to have a play while you dine, or perhaps you may choose to organise a babysitter and let them head in for the night – it's all very casual and designed to work for your family.
Special Occassions
To find yourselves on a remote tropical island gazing across the calm crystal waters of the bay, you can't help but be mesmerised by the stunning sunsets that dip ever so slowly into the ocean, so what better place than here to truly bring romance alive. Treat yourselves to a beautiful, private beach side dinner with champagne, and of course the best of the south pacific fare – Lobster and freshly caught fish, accompanied by an assortment of seafood fanfare and salads. If there are any dietary concerns with seafood, this is fine, as the chefs can offer to you equally as impressive solutions.
The Lagoon Bar
HAPPY HOUR join the bar between 5pm and 6pm daily for some great daily cocktail specials, ice cold beers. Join us at the Lagoon Bar for everything from sunset cocktails, chilled champagne, imported and local beers, all the while enjoying the sounds of the local band boys as they play timeless Fijian songs, while you watch the sky turn to orange and the day come to a close.

COMMUNAL DINING
Is a great way to bring all people from all around the world together, but this is also designed to be able to showcase some fantastic dining experiences – such as the curry night – where we are able to introduce you to up to 8 different authentic dishes, all on one table. We also have smaller tables available for other evenings, lunches and your leisurely breakfasts. The team in the restaurant are always there to help, and if you find that you have any special requests – please do just let us know.
Rooms
Bula Lodge Accommodation –The perfect solution to the budget conscious traveler – these rooms offer privacy, a comfortable room that contains a king s...
View Details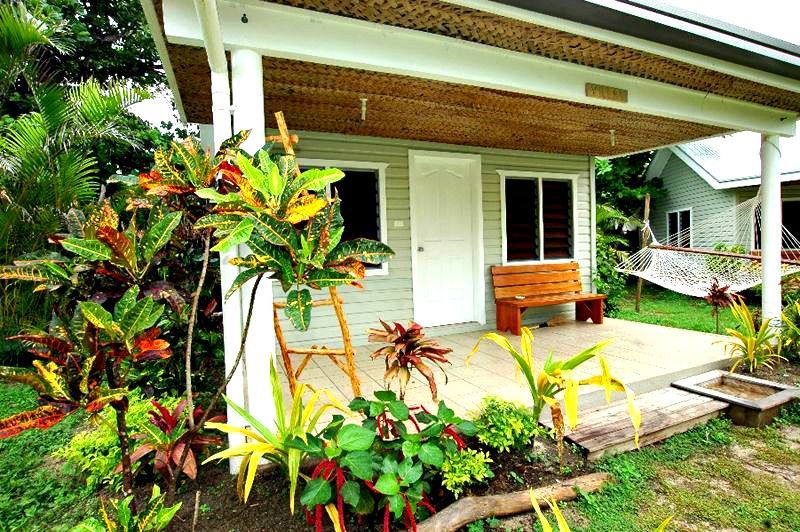 Garden Villas - These villas are perfectly situated in among tropical gardens and only meters away from the beach. Featuring one main, spacious open p...
View Details